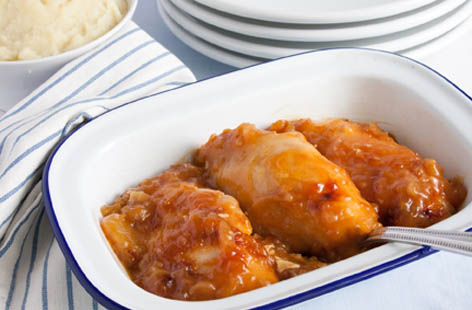 During Easter Weekend it feels almost like Christmas with the big family meals, and the eating and eating and eating……  Back to reality after a long and relaxing long weekend you feel somewhat uninspired when it comes to dinner and well, who can compete with the feasts over the long weekend.  Well, this is easy, quick and delicious….. just what you need.
Serves: 4
INGREDIENTS:
4 chicken thighs

4 chicken drumsticks

1 cup chutney

1 cup mayonnaise

1 cup water

1 x 50 g packet brown onion soup
METHOD:
Trim all excess fat from the thighs.

Place all the chicken pieces in an oven safe dish and set aside.

Whisk the rest of the ingredients until well combined and pour over the chicken pieces.

Place in the oven preheated to 190ºC and bake for about 1 hour.

Turn the pieces twice, until the chicken is cooked, the juices run clear and the skin nice and caramelized.

Serve with green salad and one of the following: rice, pasta rice, mashed potato or mashed sweet potato.